sDAQ Data Acquisition System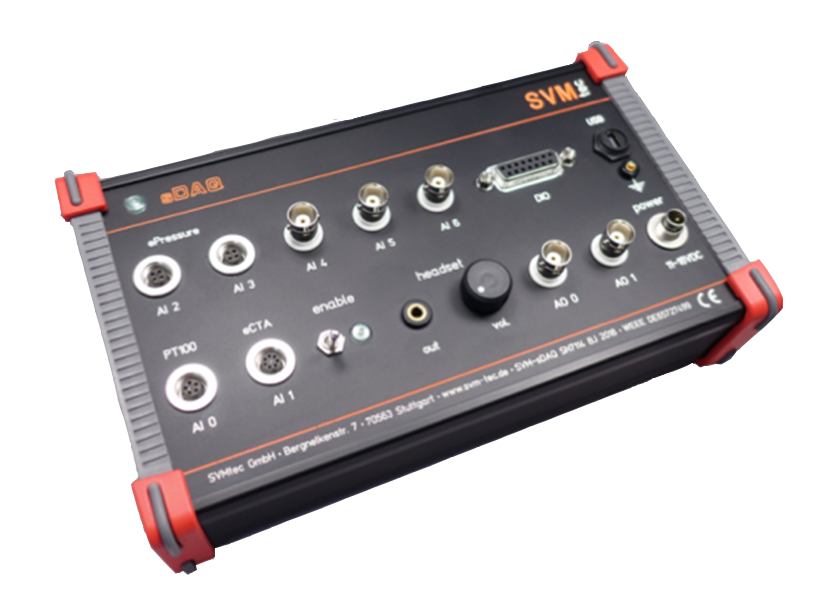 The sDAQ data acquisition system is a special device, designed for analysing all necessary parameters of aerodynamics and fluid mechanics.
The 8-channel data acquisition module with a 14-bit resolution from National Instruments is the central element of the device. The in- and outputs of the data acquisition module are ready to use for instant connection with the following sensors:
– 1x PT100 temperature sensor
– 1x eCTA hotwire bridge
– 2x ePressure differential pressure sensors
An internal barometric pressure sensor is additionally built in. Thus all essential parameters of subsonic examinations can be tracked and analyzed. All remaining analog inputs are connected to BNC sockets. The PC connection can be established by the built-in USB interface.
A simple data acquisition software is in the scope of delivery included. The software provides the configuration of the data acquisition card, reading the measured values, conversion to physical values and the storage of all collected data.
The supplied software is written with LabVIEW 2010 and will be delivered as stand-alone executable including its' source code. Software adaptions according to the user requirements can be easily done based on the supplied software. Therefor the NI LabVIEW 2010 software package is required which is in the scope of delivery not included.